Avoid Dangers of Conveyor Belt Education with Christian Leadership Education


-Do you want your kids to be influencers when they grow up?
-Do you want your kids to make wise decisions?
-Do you want your kids to lead their family well?
-Do you want your kids to lead for Jesus Christ, making an impact on those around them?
-Do you want your kids to have the tools of learning & LOVE learning?
-How about a foundation of Godly character?


If you answer "yes" to one of these questions, our 12-week course is for you. Let's take a look at how it will help lay the groundwork for your family. Get off the conveyor belt of education and give your kids an education that will make an impact. An education that will prepare them to influence those around them.


You'll receive our strategies to implement 4 steps to raise your kids to be leaders from early elementary through high school.
Kerry has been my favorite vendor at convention because she always takes the time to discuss how she has implemented classical and leadership ed in her own home. Her comments are thoughtful and practical.


Kerry packs the e-book with tons of practical ideas for implementing a leadership education. . . Grab a highlighter or pen and begin to make specific notes of how you'll raise leaders…not followers!
Diane L. www.classicalscholar.com
What Do I Mean By Conveyor Belt Education?


Conveyor Belt Education is provided by the government. Public education prepares everyone for a job, any job, by teaching them what to think. Public education historically existed to teach the poor so they could land a job. The poor had no other option but public education.


The rich hired a tutor for their children and provided them an education to lead their communities into the future. The middle class sent their children sent to private academies that used the strategies of the tutors with a small group of children. The poor had to settle for an education provided by the government.


Today, American children receive only a public education, set up for poor people to get a job. Their education is set up like a factory: everyone in the class gets the same education at the same age from the same textbooks, and they are tested the same and graded based upon the same scale regardless of their individual talents, goals, interests, personal mission. Conformity is the name of the game in public education.


On the other hand . . .


Leadership Education teaches students how to think and prepares them to be leaders in their homes and communities, thus becoming entrepreneurs, church elders and statesmen.  This is the type of education that I want for my children and I would guess you want for your children. It encourages thinking outside the box, which is difficult for a majority of Americans.


Throughout history, leaders have been mentored by tutors. Often, they moved to prep schools where they study the classics by using the mentors approach. It is the Mentoring system and independent studies that create leaders. Unfortunately the leaders in America have been trained to be professionals and specialists – not leaders.


Most of our nation consists of followers who do not have a problem with the system at hand. If your children are to overcome this dilemma, you must give them a superior education that prepares them to be lead and not follow. An education with historically-proven methods for training leaders.
How Can You Give Your Children a Leadership Education?
Practical Strategies to Implement Leadership Education – Over 90% of my customers said they want a book to help them implement Leadership Education. Raising Leaders, Not Followers has practical tips at all ages to help you today.
Biblical Perspective of Leadership Education – Whenever I pursue something new, I must compare it to the grid of Scripture. This goes for educating my children. So Raising Leaders shows you why and how Leadership Education is especially important for Christians.
Helps for All Ages – We start with the young and move to the old, providing practical tips all along the way of your student's education at home. Don't waste your time trying to coordinate all your kids at different ages; use Raising Leaders' practical strategies for your ENTIRE FAMILY.
Detailed Explanation – The first book in my set discusses leadership education and explains how parents can get started with their own family. Laying a foundation of character and a love of learning are absolutely necessary to train your children as a leader. Biblical principles and practical techniques are included.
Step-by-Step help with 12 Weekly Lessons and Study Guide
Clickable Resource List
Real Life Stories – Moms that use Leadership Education contributed stories to share with you. Follow their advice and you won't have to make the same mistakes we've already made. They have paved the road before you, imparting their wisdom and experience just for you!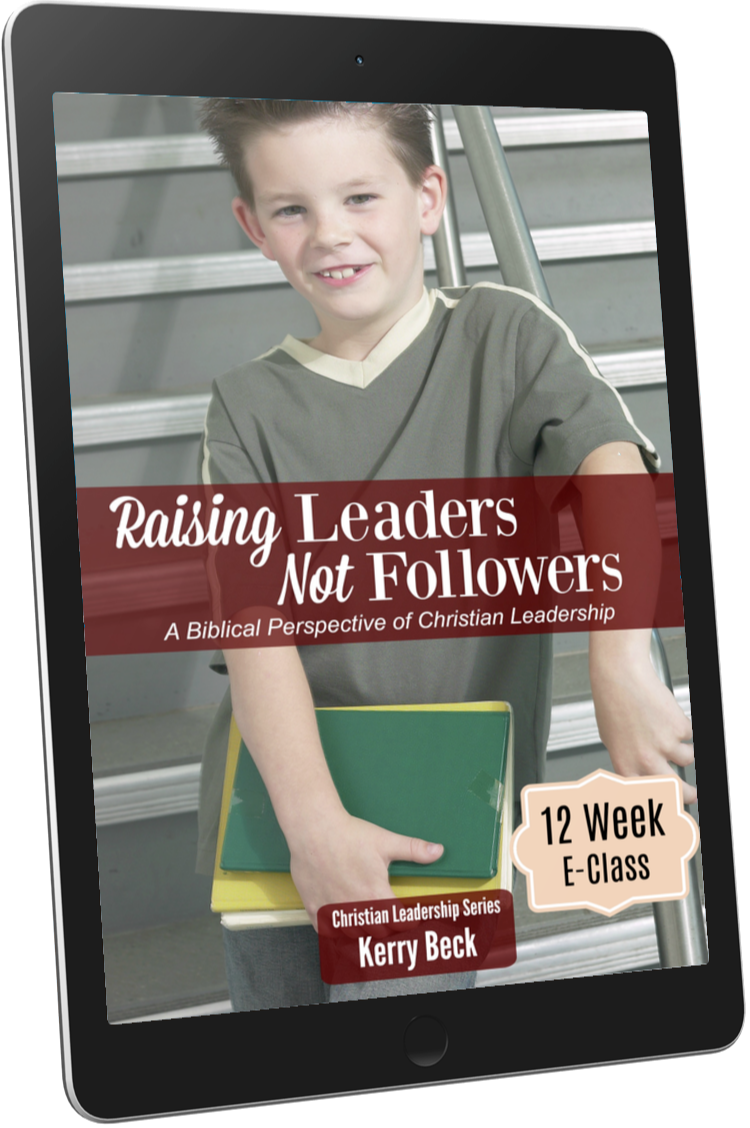 What's Included in Christian Leadership Education?
12 Weekly Assignments via email ($47)
3 ebooks
Raising Leaders, Not Followers ($16.95)
Teach Your Children "How to Think" with Mentoring ($12.95)
Hop Off the Conveyor Belt: Real Life Stories & Tips ($16.95)
3 Study Guides
Raising Leaders, Not Followers ($10)
Love of Learning ($10)
Teach Your Children "How to Think" with Mentoring ($10)
3 Video workshops & transcript (digital)
Raising Leaders in Your Homeschool ($15)
Kerry explains the pitfalls of the conveyor belt methods and the benefits of Leadership Education. She offers specific tips to get started, to build character in your children, to develop a love of learning in your family, how to help your children shift to independence and how to mentor with classics using the tools of learning for a lifetime.
Encourage a Love of Learning (digital) $15
Teach Your Children "How to Think" with Mentoring (digital)$15
Discover clues to becoming a successful mentor to your children. Don't be fooled by the conveyor-belt model! We all learn more when we are self-motivated to study. Use mentoring this year to encourage your own children to be self-motivated in their studies and learn how to think for themselves.
Total Value of ECourse $159.85
BONUS PACKAGE
Classics Book List (Kids / Youth / Adult – Digital) $11
Finding classics to read to your family has never been easier! Lists for ALL ages.
If Mom is starting her education, she can find books that she will enjoy and move to ones that will stretch her thinking. If big sister wants to read to the toddlers, she can choose from the Pre-School List. When you are in the middle of independent studies, choose a book from the Youth List.
Help for Harried Homeschooler (digital) $11
You asked for practical tips and this has LOTS! Sometimes it is easier to learn from charts, so I turned our Getting Started for Moms section into a chart. I also have some schedules to get started with your children, as well as daily schedules.
. . . . Lists make it easy to find information quickly. There are lots of lists here – Lists of Questions, Lists of Responsibilities, Lists of Character Qualities, Lists of Daily Tips.
Christian Leadership Education includes everything in our 6-Week Courses
Teach "How to Think" and Love of Learning
. . . and MUCH MORE
Total Value: $221.85

Your Price $97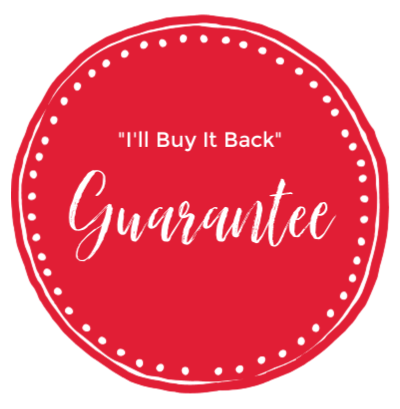 100% Risk Free
Your success in using this powerful approach to educating your children is completely guaranteed. In fact, here's my 100% Better-Than-Risk-Free-Take-it-To-The-Bank Guarantee:
30 Day Money Back Guarantee
If you aren't 100% satisfied – I don't expect…or want…to keep your money. Simply send off a quick email to me and I'll happily refund your money in full. That means you can't lose no matter what!
I believe one of the most important lessons we teach our kids, alongside the "how to think" and the godly character, is being willing to do things differently–even from others who are doing things differently-to hear His voice and follow your specific calling/passion despite the possibility of failure or ridicule.


No true leader makes changes in his world without that willingness and courage. Your materials will enable many more to put feet to the raising of leaders.
Lynn F (Parent)
You will be added to the Christian Leadership Education Course email list to receive updates and other information about homeschooling