To Moms Who Want To Keep the Focus on What's Important rather than All of the Material Things
 ...But Can't Seem To Get Started
If You're Sick and Tired of
Being Busy and Hectic MORE than Peaceful and Reflective


... AND if you're


Looking for a Practical Way to
Slow Down & Remember the Real Reason for the Season.


Then I Urge You to Listen Up to a Solution for YOU


Christmas is right around the corner and I'll admit! I'm more troubled each year to see what our society does to Christmas. We no longer keep Christ in Christmas.


-Does your home feel busy and hectic more than peaceful and reflective
-Would you like to scale back the materialism and focus more on Christ in Christmas this year?
-Is time a challenge during the holidays? Needing more time? Or searching for down time?
-Is it all out schedule chaos for you during the holidays?
-Do you tend to go over board?


I want to help you focus on what's important rather than all of the material things. I'll share how I failed at Christmas (big time!) and the changes I made to keep the focus and peace of our holidays. If you've ever started crying from the holiday stress, I can relate to you.


For several years, I cried or felt sorry for myself because I was "go, go, go" until I fell apart on Christmas Day. That's when I decided to make a change...and listen to my husband.
The Study is Called Star of Bethlehem Bible Study Ebook. Not only is there a fresh focus on God's AWESOME communication with us throughout time, but you will learn more astronomy than YEARS of study in a text!


Kerry takes you deeply into the Word of God to dig out what God has to say about stars, astronomy, astrology, and neatest of all, how God used STARS to tell about His plan for salvation through Jesus Christ!


Cindy Rushton, www.cindyrushton.com
But, it's not just in our homes. It's everywhere we look that Christ is removed from Christmas.


An anonymous parent at an Arkansas school tried to stop a field trip to watch Merry Christmas, Charlie Brown because it had religious content and would be performed at a church . . . even though a parent could opt-out of the field trip. The attorney says this field trip oversteps the lines between church and state.


And in my own home town, the Office Depot clerk remarked on her headset they could not wish customers "Merry Christmas". She went on to say, she could wish them "Happy Hanukah, Holiday, Kwanzaa" or whatever else!


I could go on and on, but I won't.


When I look around me and see how empty and commercialized Christmas has become, I realize I need to watch out for my own family. I may not be able to change the world, but I can add purpose & meaning to celebrating Christmas in my home. I can be sure to keep "Christ" in the center of my family's Christmas, and so can you!


Here's how…
If you feel like the holidays suck all the joy out of Christmas as you keep trying to slow down to remember the real reason of Advent & Christmas, I understand. One Christmas Day, I cried from Steve's family to my family's celebration. I went overboard and was completely drained.
These are the reasons I created our Christmas Celebrations Bundle. To help moms focus on Christ in Christmas, stay on schedule and not go overboard.
There are just so many great and fun things to do. Is it hard to pick and choose ... and still focus in Jesus at Christmas?


The Christmas Celebrations Bundle will help you choose rewarding activities to put the true meaning of Christmas back into your celebration, guaranteed. Use these simple ideas at home to reduce the commercialism & stress that you may have at Christmas.


Plus, I've included a few extra books to help you get great meals on the table in little or no time! Don't spend time worrying about your next meal, spend it with your family as you celebrate Christmas!


What Everybody Should Know…
About How To Change Your Family's Christmas
So You Have Less Stress During The Holidays
Star of Bethlehem
Family Bible Study Guide
by Kerry Beck ($19.97 ebook)
How can a star in the sky be such an important part of Christmas?


What do YOU know about the Christmas star?
What was Christ's star?
What was the real reason for a Star?


If you don't know the answers to these questions, you need to use this Family Study Guide to gain a richer understanding of the birth of Christ. It is fascinating!


Every time I hear about the Star of Bethlehem, I am amazed at the details God has worked out to announce His Son in the story of the stars. The gospel message is so clear, if we spend some time studying what He has written in the skies.


The Star of Bethlehem Family Bible Study Guide is heavy on questions for your family to answer, as you search the truths about the skies and Christ's star TOGETHER. This is for the ENTIRE FAMILY! The questions will encourage discussion within your family. What a great way to learn together!
Slow down & focus on Christ. Stop your Science studies or regular Bible study and use this interactive study as a family.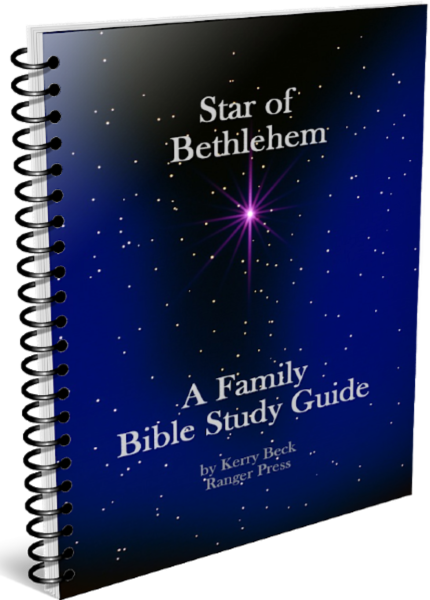 I just received your "Star of Bethlehem" ebook. It is AWEsome! . . . I am so excited about this material that I can hardly wait to introduce it to our children.


Thank you for your time & for your AWEsome (in the true sense of the word) ebook. I am looking forward to the availability of the rest of your material on astronomy.
Julie Banton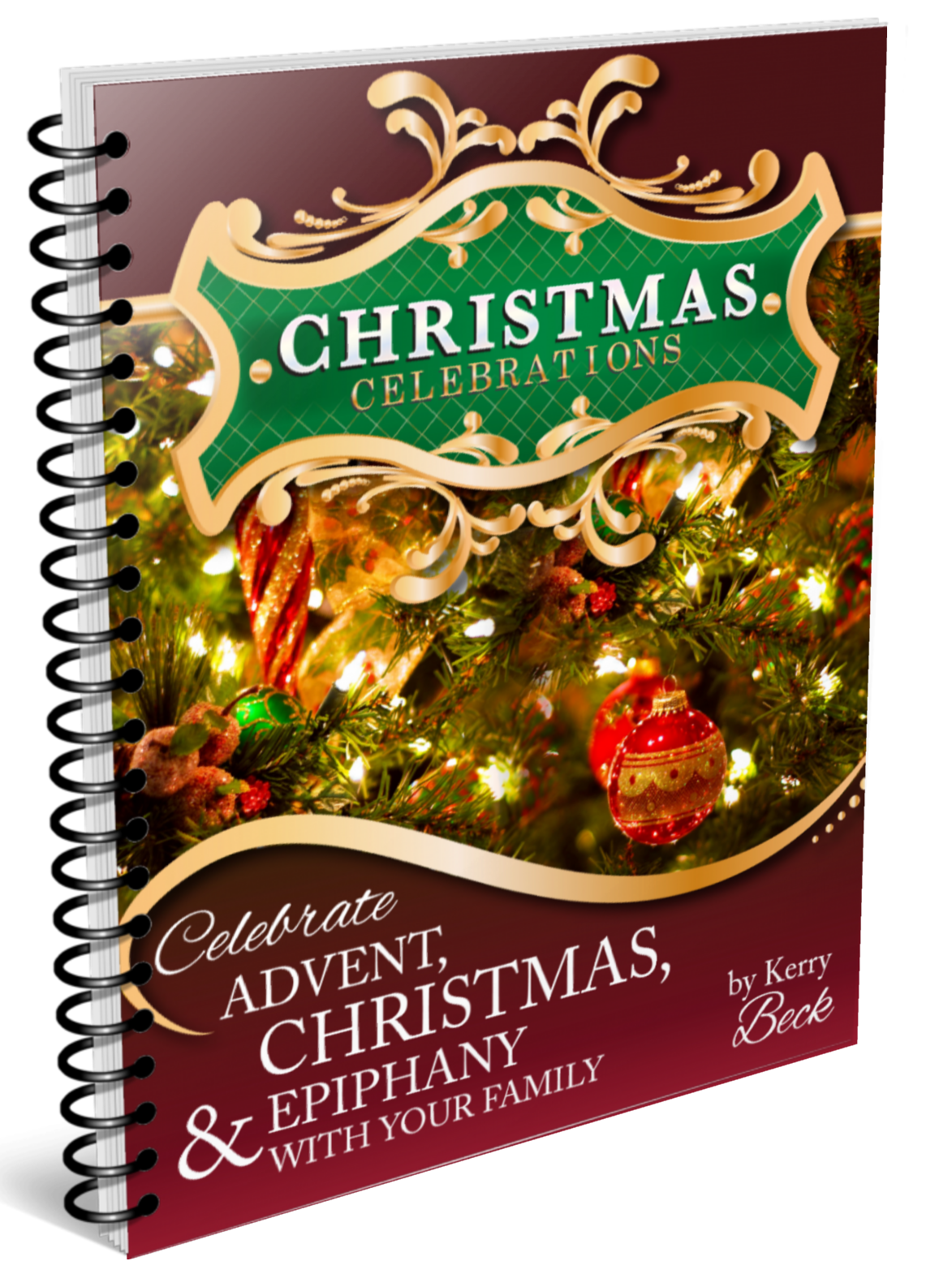 Christmas Celebrations:
Advent, Christmas & Epiphany
by Kerry Beck, $14.95


BONUS $5:
November 2020, December 2020, January 2021 Calendars


Did you know that many of our Christmas traditions have Christian origins?


I didn't know these origins until a few years ago when we started to read more about why we do what we do to celebrate Christmas.
Here are just a few:


-The Yuletide Log comes from the missionary Boniface and his work of converting pagans to Christianity


-St. Thomas Day (December 21) is a day of well-wishing and Christmas cards are a way of celebrating St Thomas Day


Advent is a glorious time to tie family bonds as you discover the Christian origins of Christmas symbols and traditions. You'll receive activities to celebrate these traditions as you prepare your hearts for Christmas.
The Epiphany section gives you the words to 12 Days of Christmas song, as well as special activities to do for each of the Twelve Days of Christmas.


Wondering what I'm talking about?


The Twelve Days of Christmas are not before Christmas, but AFTER Christmas, concluding on January 6th. I think this section is worth the price of the book alone since most don't even know what Epiphany is.
Slow down & focus on Christ. Stop your regular homeschool books and use this as a guide to prepare your hearts for Christmas.
What will you find in Christmas Celebrations ebook?


November Celebrations (p.6)
How to celebrate 5 special days in November (p.6)
How to Use Thanksgiving to Prepare for Advent (p.7-15)
History Lesson on Thankfulness (p.9)
Verses to Memorize on Thankfulness (p.10-11)
How your kids can become more thankful (p. 12-15)
Advent Celebration Ideas (p.16+)
Homeschool Tie-Ins (throughout)
Copywork Selections (throughout)
How to Celebrate Stir-Up Sunday (p.17)
How to Use an Advent Wreath (p.19-27)
Symbolism of Advent Wreaths (p.19)
Ideas for 1st, 2nd, 3rd, 4th Sundays in Advent (p.20-27)
6 Fun Advent Calendars for Your Family (p.21-23)
Meaning of Christmas Colors (p.25)
Significance of Mary's Song in Luke 1 (p.26-27)
How to Integrate the Bible into Advent Calendars (p.28-31)
What is "Klopfelnachte" (p.32)
7 Steps to Have a Stress-Free Christmas (p.44-46)
History of St. Thomas Day & Tie into Homeschool (p.47)
Edible Nativity Scene (p.62-63)
Christian story of St Nicholas (p.33-34)
How to Tie St. Nicholas into your Homeschool (p.34)
Story of St. Lucia's Day (p.35-37)
Christmas Around the World Ideas for Homeschooling (p.37)
Missionary Story of Boniface & Yuletide Log (p. 38-39)
Christian Meaning of Christmas Symbols, such as Mistletoe and Holly & Ivy (p.40-41)
Surviving Christmas as a Homeschool Mom (p.42-44)
Christmas Movies to Watch with Homeschooling (p.48-49)
Books to Read during Advent & Christmas (p.50)
How to Use a Family Devotion Jar (p. 51)
How to Make a Memory Calendar (p.51)
What is Christmas? (p.52-54)
Christmas Tradition Ideas (p.54-56)
Words to Several Christmas Carols & Their Meanings
Meaning of "O Come All Ye Faithful" (p.59-60)
Homeschool Tie-Ins with Christmas Traditions
How Your Family can Incorporate Boxing Day (p.64)
History of King Wenceslas (p. 64)
Many Writing activities for your Christmas Homeschool (throughout)
Epiphany Celebration Ideas (p.76)
Ideas & Recipes for Epiphany Feast (p.77-80)
How to Celebrate 12 Days of Christmas & Homeschool Tie-Ins (p.65-71)
Christian Meaning of Each of the 12 Days of Christmas (p.65-71,75))
Lyrics to "Twelve Days of Christmas" (p.72-74)
Daily Bible Reading through Advent & Christmas (p.81)
Daily Epiphany Family Devotions (p.82)


Christmas Celebrations helps YOU save time by not spending hours looking this up online. I've done all the work for you!


PLEASE NOTE: This is definitely a Politically Incorrect Book – All sorts of way to KEEP Christ as the Center of Christmas are included!
I thank God for the privilege of learning these things, all the ideas are wonderful, I really like the one on Advent Wreaths. I think we buy these things as pieces of decoration for the season without an in-depth understanding.


In our church, Redeemed Christian Church of God, its the time of the year we advertise and celebrate our Lord Jesus Christ by having crusades and planting new churches.
~ Edna
Preparing For Christmas:
A Dad's Perspective
by Stephen Beck $9.95


Listen to Stephen Beck as he encourages you to prepare Biblically for Christmas.


The coolest aspect of "Preparing For Christmas" is it is from Dad's perspective. Too often, moms make all the holiday celebration plans and Dad just goes along for the ride. Here's a tape that gives it to you straight -from a Dad & Husband!


Steve has no problem telling you the way it is . . . Biblically! This audio download will inspire you to re-focus your Advent and Preparation for Christmas….no political gimmicks here!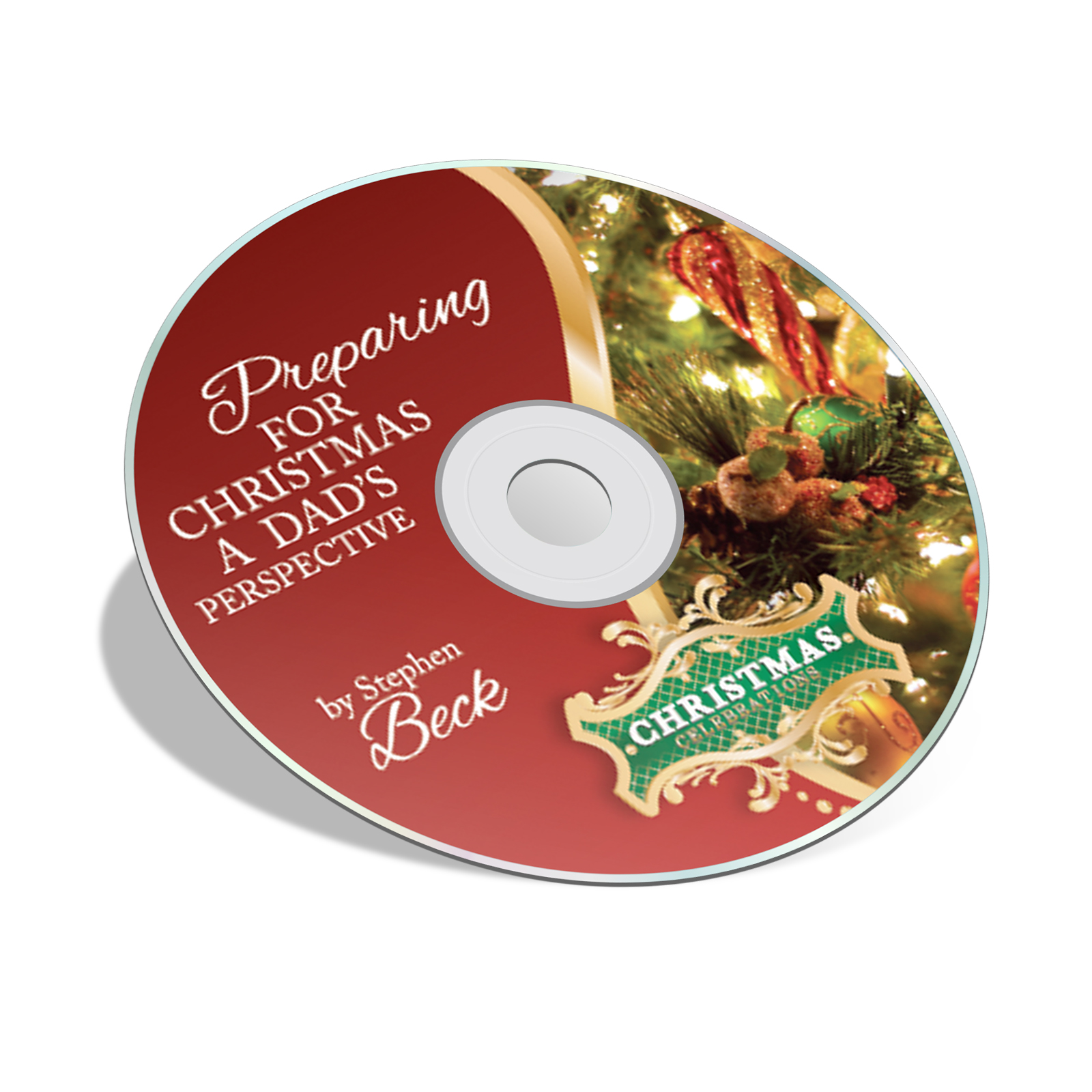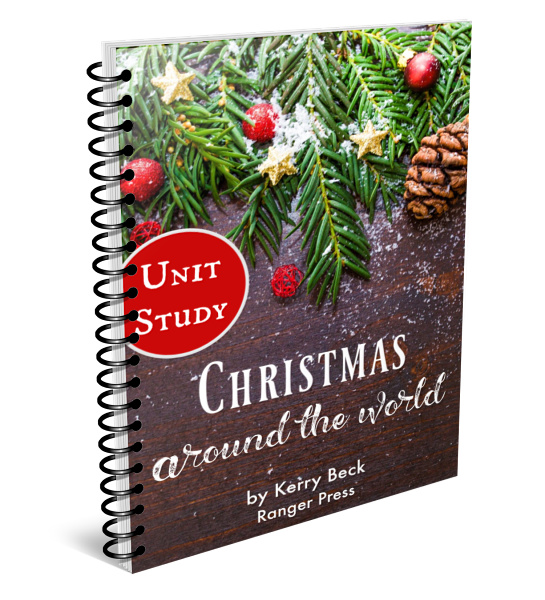 Christmas Around the World: A Unit Study
by Kerry Beck $14.97


I'm so excited to share my Christmas Unit Study that I used with my own children. I realized that I had never done this unit with my children. Now, YOU can study Christmas Around the World. Look at customs and traditions from Great Britain, Mexico, Sweden and more.


Save yourself some time and energy by using my plan! I've already done the work for you and chosen the activities for you.


Included are Christmas traditions from each country, Activities, Recipes, Christmas Carols, Christmas Poetry, Christmas Books, Christmas Movies. There is even a plan for you to use each day you study the country of the day.
Bonus Item: Quick Reference Chart


You'll also receive my Quick Reference Chart to this unit study. In educational terms, it's your scope & sequence. At a glance, you'll be able to see:


Each country studied
Each country's tradition
Each country's activities
Each country's readings
Each country's cooking activity
Each country's printables
Each country's Christmas carols
Slow down & focus on Christ. Stop your history, reading, writing, geography and use this as a substitute to discover how others celebrate Christ's birth.
Christmas Celebrations Bundle includes:
Star of Bethlehem Family Study $19.95
Christmas Celebrations: Advent, Christmas, Epiphany $14.95
Preparing for Christmas: A Dad's Perspective $9.95
Christmas Around the World Unit Study & Bonus Quick Reference Chart $14.95


Total Value: $59.80
SAVE $12.80

Your Bundle Price $47
Thank you again. I really appreciate you providing all of these items for such a low amount of money. We don't have any Christmas traditions YET! . . .I am like a sponge trying to soak it all in so I can give the best to my children (Get them spiritually grounded).


 God Bless and thank you for sharing your knowledge, experience, and ideas with us.
Teresa Pinnick
BONUS PACKAGE "Fast Family Meals" & Recipe Books
Quick & Easy Recipes $12.95


After all your celebrating, it's sometimes hard to answer the age-old question, "What's for Dinner?".


Worry About Dinner During The Holidays No More!


I've included 155 Quick & Easy Recipes so you don't have to think about dinner. Choose a few each week. Buy your groceries. Cook an easy meal! Spend more time enjoying the holidays and less time worrying about feeding your family!


Hey, there are even Breakfast & Lunch Recipes that are quick & easy!


Find Christmas recipes fast with this cool cookbook that you can keep on your computer or print out for a Recipe Notebook.


These Quick & Easy Meals are just what you need to give you More Time to Make Christ the Center of Advent & Christmas!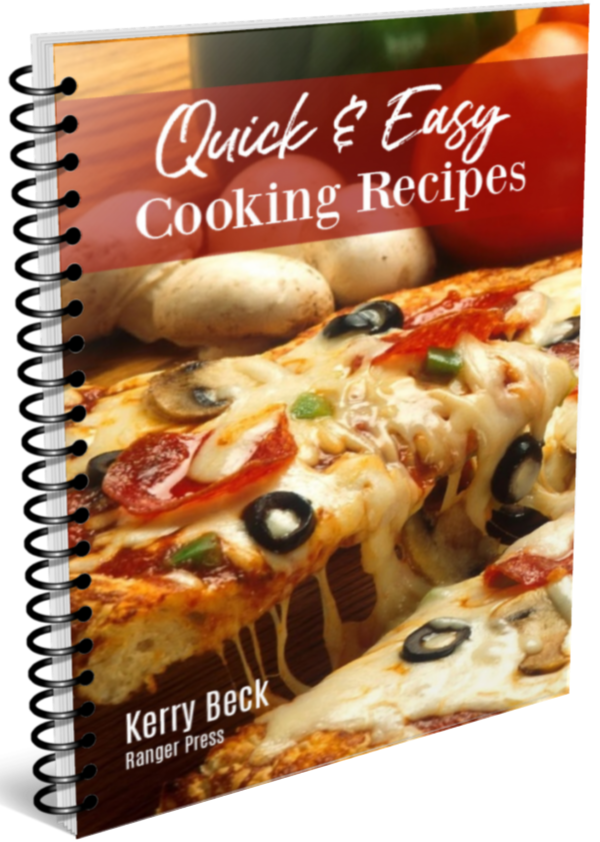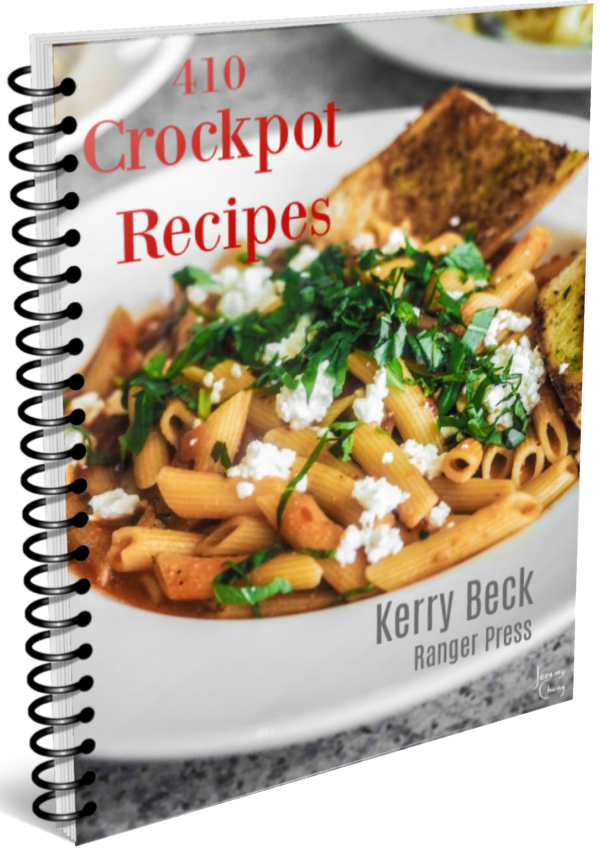 Crockpot Recipes $14.95
When you are busy with your family celebrating the holidays, the crockpot is your best friend. I cook a meal in my crock-pot about once a week. In fact, I just cooked a whole chicken in my crock pot for last night's dinner – yum, yum!


Why the Crockpot or Instapot?


After lunch, load up your crock pot. Turn it on. Walk away!!!


Go Christmas shopping, stamp some Christmas cards or decorate your home.


When you come back in 5-6 hours, your dinner is ready. You just can't beat crockpot cooking!


Crockpot Recipes offers you 470 Recipes. No, that's not a typo. You get 470 recipes you can cook in your crock pot so you can spend More Time with your Family.
5 Christmas Recipe Books


Best of All Time Christmas Dinners & More $14.97


Holiday dinners are not just another meal, they are an event, a feast for your family! The holidays are a magical time when friends and family get together to share a richly laden table. A carefully thought out holiday dinner will be remembered for years to come.


Whether you need an Elegant Christmas Dinner Recipe, Christmas Eve Menu recipes or Dessert Recipes for Christmas, you will find the recipes you need in this book of recipes
Over 300 recipes included in Best of All Time Christmas Dinner & More Recipes!
Homemade Christmas:
Best Ever Christmas Recipes from Your Home $9.97
100 Simple And Delicious Recipes For Your Special Holiday Meals! The Holidays are a Special Time… There is just something about gathering together with Friends And Family for a meal that make the Christmas so Special.
Christmas Recipes for a Crowd!
Fun Christmas Cookie Recipes $9.97
Christmas Cookies Just Bring Out The Kid In All Of Us… There's nothing like to smell of freshly baked cookies to get you in the mood for the holidays. Something about the way the scent fills your home just seems to bring back fond memories of Christmas, family and the joy of the holiday season.
Christmas Candy & Fudge Recipes $9.97
One Of The Best Things About The Holiday Season Is All Of The Homemade Candy And Fudge! No Other Time Of The Year Is There As Many Homemade Confectionery Delights To Sample As During Christmas.
Pumpkin Pie and More! $9.97
If There's One Dessert That Is A "Must Have" At Any Holiday Meal It's Pumpkin Pie! The Rich Flavor Of The Sweet Pumpkin And That Special Blend Of Spices Just Fill Your Mind With Thoughts Of The Holidays. This Year Put A New Twist On Everyone's Favorite Holiday Dessert!
Total Bonus Package $82.75


Christmas Celebrations Bundle WITH Bonuses Package: $142.55

Your Price $47
Thank you so much for sharing your wisdom with us! The bundle will be the compilation of information to help save me time and guide me as I teach my children the true meaning of Christmas and share the history of the season with them.
Brooke
What will you get in the Christmas Celebrations Bundle?
Family Study of Bethlehem Star – Deepen your understanding of the Christmas story as you discover what the Bethlehem Star really is as you look to the skies
Nine Points of Christ's Star – Explore the points that lead you to Christ's star at His birth
Best Christmas Cookies Ever – Looking for the perfect Christmas cookie recipe? We have it! Plenty to choose from as you prepare for your Christmas Cookie Exchange
Advent Symbols & Celebration Ideas – Save time as you follow our ideas to celebrate Advent. Advent is truly the preparation for Christ's birthday.
Christmas Symbols & Celebration Ideas – Discover some new and simple ways to celebrate Christmas.
Epiphany Celebration Ideas – Epiphany includes the 12 Days AFTER Christmas, from which the song is derived. You have ideas on how to celebrate.
Dad's Perspective on Preparing for Christmas – Audio presentation that offers the Biblical way of getting ready for Christmas…Be READY for Christmas the God tells us.
Christian Origins of Christmas Traditions – The Christian origin of Christmas traditions are given so you don't have to look them ups. Use your time elsewhere.
Words to 12 Days of Christmas Song – PLUS, Specific ideas to celebrate and remember each day of Epiphany.
3 Month Advent Devotional Calendar – Weekly suggestions for you to use as you wait for Christmas to arrive.
Over 300 Family Favorite Recipes – Recipes your family will love…all at your fingertips!
100 Homemade Christmas Recipes – Make your Christmas Celebration special with these sumptuous meals.
Fudge & Candy Recipes – Christmas is the perfect time to make candy, even if you've never done it before.
Pumpkin Recipes of All Kinds – Everyone eats pumpkin pie or pumpkin bread at the holidays. Learn some new twists to an old tradition.
155 Quick & Easy Recipes – Need some quick and easy meals? Or meals for a crowd? We have all of those recipes…at your fingertips!
470 Crockpot Recipes – You can start dinner after lunch and walk away. When you return, dinner is served!
I personally know how stressful the holidays can become. I don't want you to stress out as you try to celebrate Christmas this year. I surely don't want to over-charge you for the entire package.


You deserve to enjoy the holidays with the rest of your family. So, I've put together this package that will save you time, stress and money! That's right . . . you save time so you can enjoy your holidays with your family! What more could you ask for?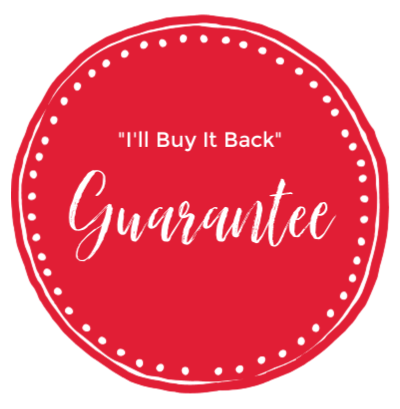 100% Risk Free
Your success in using these resources with your family is completely guaranteed. In fact, here's my 100% Better-Than-Risk-Free-Take-it-To-The-Bank Guarantee:
30 Day Money Back Guarantee
If you aren't 100% satisfied – I don't expect…or want…to keep your money. Simply send off a quick email to me and I'll happily refund your money in full. That means you can't lose no matter what!
The Christmas Celebrations Bundle will help me be more intentional with our learning this Christmas and Thanksgiving season. I was really excited to dive into the Bethlehem study and astronomy vs astrology also.  Looking forward to learning alongside my children!
Elena
Who else wants to Change Your Family Christmas Celebration
So You Focus on Christ…with Less Holiday Stress and
A Happy Family at Christmas?
If you are like me & my family, you find it hard to balance all the demands from outside your home and still celebrate Advent & Christmas in a meaningful way. That's why I've pulled together all of these resources.
I was so excited to research, write and find these really cool activities so my own kids could have a meaningful Advent & Christmas Celebration each year. Now, I can flip back to each section of my books and enjoy our family. No more fretting over what we will do to keep Christ the center of our Advent & Christmas season.


I urge you to take action today so you can be focused on Christ, while also enjoying all the fun activities during Advent & Christmas.
This bundle is completely DIGITAL. Nothing will be mailed to you in the USPS.
You will be added to the Christmas Bundle email list to receive updates and other information about holidays & homeschooling